Contrary to the name, butter is not present in real buttermilk. It has very low-fat content and hence, considered a healthy choice for many people. Since this versatile fermented beverage is made by churning butter, it is called buttermilk. The shelf life of this dairy product is much higher than milk because of the higher concentration of lactic acid. This is why masala chaach is considered a good option for cooking and baking.
You can easily find bottles and cartons of cultured buttermilk and masala chaach in stores. Buy from trustworthy brands like Anik to ensure that the cultured buttermilk is thick, tangy, and healthy. However, if you do not want to consume store-bought real buttermilk, you can make it at home as well. It is not a very difficult task and will prove to be cheaper as well. However, making it from scratch will surely require more time and effort.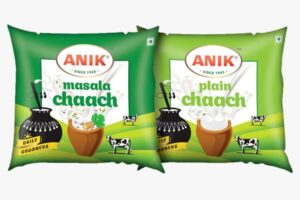 Ingredients required for making Real Buttermilk
Making real buttermilk or masala chaach is a very simple task and you can easily prepare it at home. There are a few basic ingredients requirements, most of which are always available in Indian kitchens.
Vinegar: White vinegar is considered the best option for making buttermilk. However, you can use other alternatives as well like rice vinegar, lemon juice, apple cider vinegar, etc. If you are using something else other than white vinegar, make sure you choose a clear acidic substance whose acidic level will match the acidic level of white vinegar.
Milk: There are various milk types available in the market. Any type of milk can be used for making buttermilk. If you want to prepare dairy-free buttermilk, plant-based milk can be used as well. However, you must remember that the type of milk you use for the process has a huge impact on the end result. For instance, if you want to make extra-creamy buttermilk, you have to use full cream milk. On the other hand, skimmed milk will produce less-fatty buttermilk.
How To Make Buttermilk?
You may have to put in some time and effort for making cultured buttermilk but it is not a very difficult task. Besides being a very tasty and healthy drink, it is really easy to make real buttermilk. Mentioned below are a few steps that will help you understand how to make buttermilk:
Fill a measuring cup with milk.
Put vinegar or lemon juice using a tablespoon. One cup of milk needs 1 spoon of vinegar.
Use a spoon to stir it or whisk properly.
Leave it for 5-10 minutes and your buttermilk will be ready. You can now add it to various dishes to enhance their taste.